Idea Capture Journal
Record Those Ideas Before They Get Away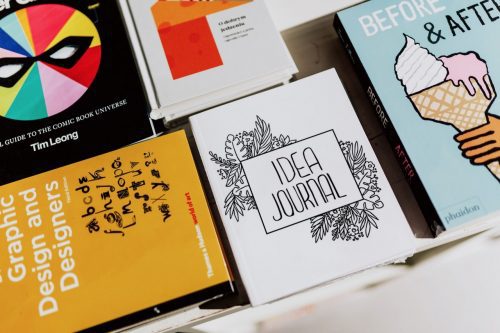 How many times have you had a great idea and promptly forgot it after finding your phone? Too many? This is why good old pen and paper is still the best medium for capturing those great ideas. It's fast. It never runs out of battery, and there is no learning curve. What's better, is finding all your ideas in one journal that you can reach for whenever you need to implement or get bored.
For All Areas of Life
We are all multi-dimensioned. Life isn't about work all the time. That's why this journal is created to help you capture ideas for home makeover projects, family life, hobby, craft or fun projects, and of course business.
Pages are also designed to be easily broken apart with several cover and divider pages. This way, you can pull out only the pages you need to use for yourself or as lead magnets. Combine them with other journals from our collection and more.
Only $27 For A Limited Time
Why Color-Friendly
That is pretty easy. Again, backed by science, the act of coloring has been shown to be have many benefits for adults. Because of these benefits, we want to marry these two powerful so you can be productive, crush your goals and do it all without a whole lot of stress.
Besides, you'll end up with a fun colorful planner that you will be delighted to look at everyday instead of something you dread opening.
Coping Mechanism
Coloring is in part an artful expression and art has long been a good way to help people cope with stressful situations where words simply fall short. Whenever we are working on big projects, stress creeps in and this is a quick way to bring yourself back into a relaxed state.
Improve Concentration
Coloring elicits a relaxing mindset similar to meditation. Like meditation, this repetitive action lets us switch off our brains from other thoughts and focus on the moment. This builds upon the act of hand writing. Combined, it helps you stay on track.
Stimulates Creativity
Coloring allows you to express your creativity in a calm manner. This is very helpful for problem solving because it helps us think differently. Anyone of us who has faced large goals and complex projects know the ability to be creative goes a long way to success.
Two In One
We know now that hand writing and coloring are two powerful activities. So why not have them both in one?
No more lugging a planner and a coloring page everywhere you go.
Reduce your stress as you work on your goals.
Turn your journey into a work of art that delights and motivate you each time you see it.
ALSO INCLUDED
Private Label Rights
It's true! With this bundle, you get the rights to private label the journal. Here's what it means.
Give it away as a lead magnet in PDF or JPG format.

Sell as your own product on your own website in PDF or JPG format.

Put your name on the product.
Sell on Etsy, Envato, Creative Market, or any creative marketplaces as your own.

Resell with private label rights to others.

Sell graphic and font assets individually.

Sell printing rights to publishing houses.

Sell more than 10,000 print copies. If you wish to do that, ask about our extended print rights.

Sell or give away Adobe Illustrator editable format.