A Limited-Time Opportunity for Astute Entrepreneurs
Your 4-Day Chance to Secure 27 Premium Products Absolutely Free!
November 24th to 27th Only
Don't Fall for the Black Friday Spending Frenzy!
Save your money and grow your business with our No Spend Black Friday event. Imagine not feeling the pressure to rush out and spend your hard-earned cash on unnecessary items. Instead, you're sitting comfortably in your office, knowing that you're about to make a smart decision for your business.
Bulk Calendar Magic
From your host Lynette Chandler
Gone are the days of manually dragging and dropping every element, trying to align everything just right. That's so yesterday! The Bulk Calendar Magic toolkit is tailored for efficiency, allowing you to design multiple pages at once within Canva. Whether it's a yearly calendar, a weekly planner, or even an entire year's worth of monthly calendars – this toolkit can handle it with ease.
Don't Leave Your Business Strapped For Cash
From Our Featured Partners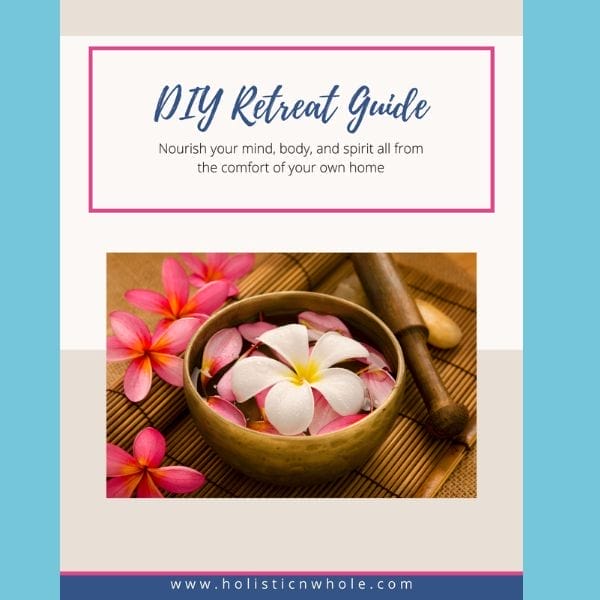 DIY Retreat Guide
From Kris Fleet
Do you wish you could go on a retreat but don't have the time, money or luxury of escaping to an exotic location for a week? You can create your own meaningful retreat experience…whether you only have a few hours or a whole weekend.
Image Optimization Essentials
From Renee Shupe
Optimizing your images to help keep your website running smoothly and keeping it fast is one of the easier things any website owner can do, this quick training shows you how!
Claim your free 2024 growth toolkit today!
Products for Personal Use
Enjoy these tools and goodies to level up yourself or your biz! Just a heads up, they're for your eyes only. No reselling or passing them off as your own.
The Activity Planner
From Phung Tran
The Activity Planner workbook offers a streamlined approach to crafting attainable health goals, tailored for busy professionals. It outlines a step-by-step framework to pinpoint and conquer common obstacles, ensuring users set precise goals and devise actionable plans for enduring health achievements.
Introvert VA Networking Bundle
From Desi-Ann Gordon
Attending networking events as an introverted Virtual Assistant can often be taxing and daunting. They might even seem intimidating. However, with the Introvert VA Networking Bundle, you can forge meaningful connections with minimal stress.
5 Days to Profit from PLR Course
From LaKisha Mosley
In this course, I introduce you to PLR, show you how to use it, and help you create products that you can profit from. I'll introduce you to a system for tracking your PLR. You'll leave this course with at least 1 idea of a product you want to create from the PLR you have obtained.
88 Optin Giveaways to Grow Your Email List and Your Business
From Heidi Richards Mooney
This resource is filled with ideas (88 of them) for creating giveaways your audience wants and needs. Some you may have thought of or have already created and others that give you that aha 'why didn't I think of that?' moment.
Mighty Content Repurposing Checklists
From Jennifer Burke
Get off the hamster wheel of content creation! Save time and energy with mighty smart repurposing. Worried that's more work too? These checklists + tips show you how to repurpose multiple types of content. Use what you've already got to save time, and make more sales in the new year.
Products for Commercial Use
Check this out! You can put your own brand on these products and sell them as if they were made by you. Pretty awesome, right?
Life Blooms Printable Planner PowerPoint and Canva Templates
From Becky Beach
In this bundle, you get a 30 page life printable planner template, 27 clipart, 27 stickers, 24 digital paper, and 4 patterns!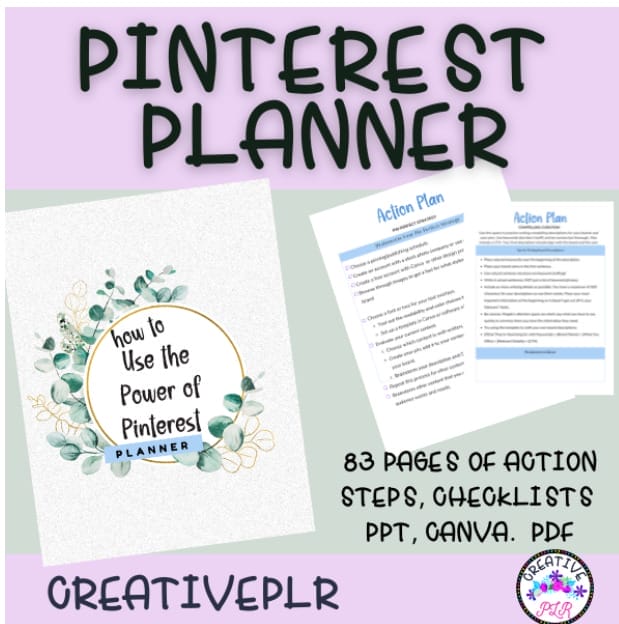 Pinterest Planner
From Linda Faulk
Boost your Pinterest game! With 83 pages information, action plans and checklists, you'll have everything you need to grow your audience. And the best part? This planner is fully customizable in Canva or PowerPoint.
Tales From the Rouge "Christmas Cardinals" Advent Collection
From Lara Champion
The Tales From the Rouge "Christmas Cardinals" Advent Collection contains 31 pieces of stunning illustrated 8 x 10 images with commercial usage rights.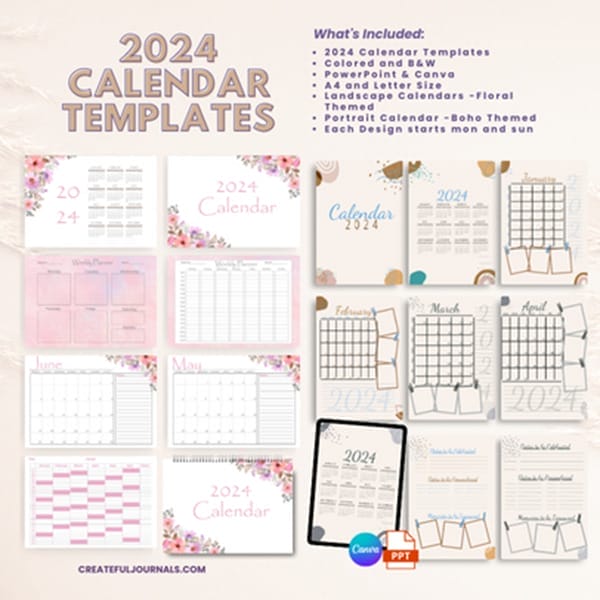 2024 Calendar Pack
From Sue Fleckenstein
Done for you pack of 2024 Calendar Templates in both Canva and PowerPoint. Comes in Portrait and Landscape, in two sizes and with two different designs and both a Monday and Sunday Start. Add your branding and they are ready to use.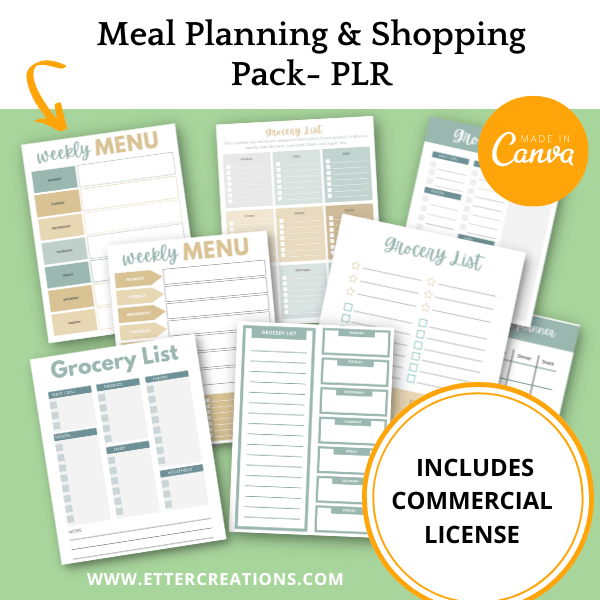 Meal Planning & Grocery List Set
From Christie Love Etter
This is a Beautiful variety set of Meal Planning & Grocery List pages, fully editable in Canva! Includes 11 pages, with a variety of meal planning pages, weekly menu, grocery list and more to mix and match!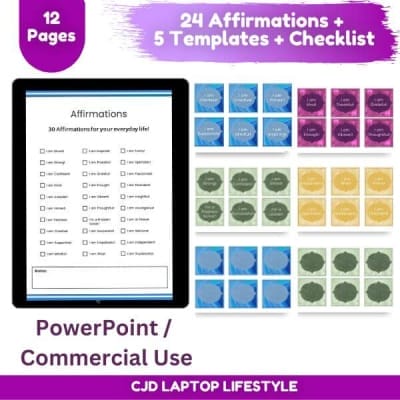 Beautiful Affirmations Templates& Checklists
From Christina Deptulski
These beautiful Affirmation Templates PLR are editable in PowerPoint and Canva.
You're able to edit both the font and the colors! Mix and match and make even more affirmations. Combine with other planners.
From Procrastination to Productivity: Winning at Work & Life
From Tracy Roberts
If you:
• Struggle with procrastination and lack of motivation
• Find yourself putting off important tasks or avoiding challenging projects
• Wish you could be more productive and efficient in your work and personal life.
Then you need this.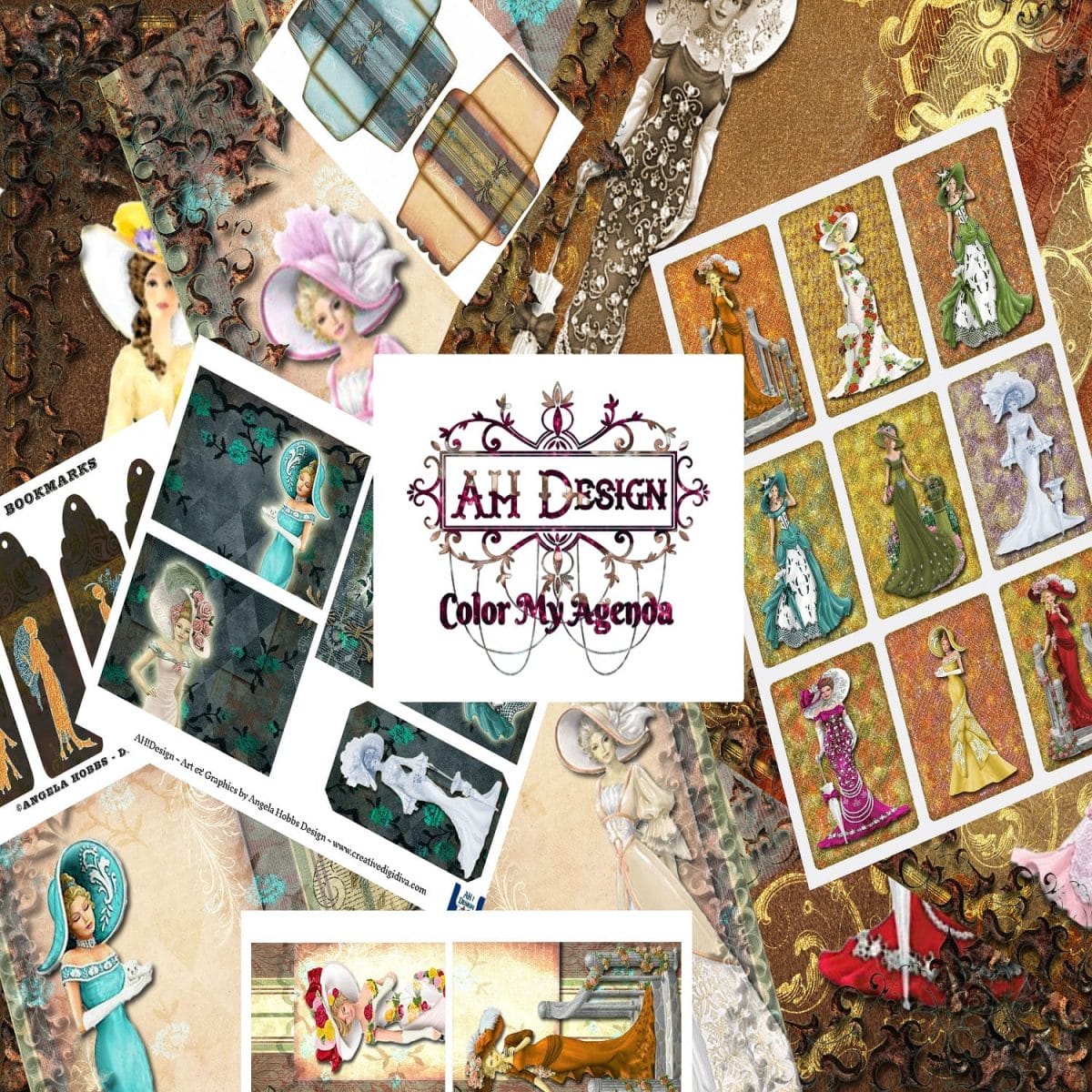 Vintage Ladies Junk Journal Printable Kit
From Catherine Angela Hobbs
8 Journal Papers (16 total)
4 JPEG Sheets with cards, tags and pockets
1 set of Ladies Fashion Bookmarks
1 JPEG Sheet with 2 Pocket Sized Envelopes for your journal
All sheets are 8 1/2 x 11
All printable 300 DPI JPEGS, and can be printed on any paper of your choice.
Commercial Use Allowed.
Gradient Affirmation Card Templates
From Angela Hobbs
Make your own Tarot or Oracle cards.
Use the images I have provided for you, or replace them with your own, and add the corresponding titles, or add an affirmation, make them Tarot Cards, Oracle Cards, or Affirmation Cards, the choice is yours.
Brand them and make them yours!
35 Christmas Watercolor Clipart With MRR
From Carmen Chan
A collection of 35 high resolution Christmas clipart featuring Santa, reindeer, polar bears, bunnies, penguins and birds. Plus, Christmasy accessories including wreaths, ornaments, and snowy houses. PLR Product License is included so you can use the illustrations to create PLR products to sell.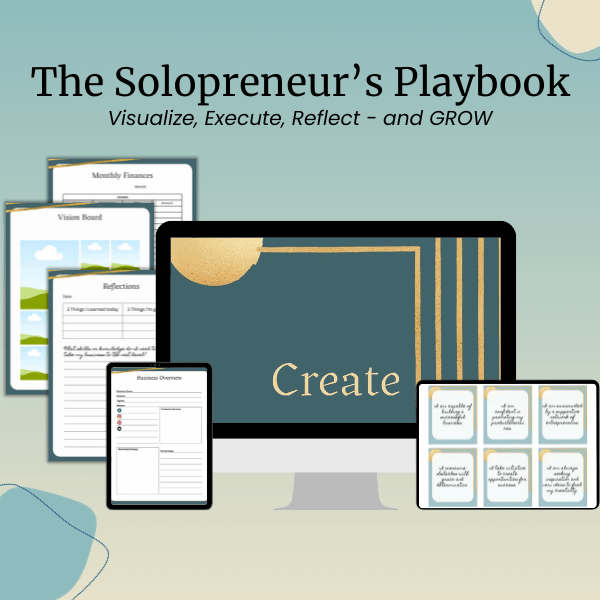 The Solopreneur Success Pack
From Sreedevi
I designed this Solopreneur's Playbook specifically to empower new online business owners like you (and me). This comprehensive pack includes a business planner, a journal with 60 prompts (in 2 styles), and 42 affirmation cards, all carefully crafted to help you overcome obstacles and achieve your goals.
30 Day Comfort Zone Challenge
From MaryJo Scamurra
Step outside your comfort zone with this 30-Day Challenge template. It is easily editable in Canva and PowerPoint and offers daily prompts and activities to help your community grow and embrace new experiences. Get ready to break boundaries and thrive with confidence! Commercial rights included.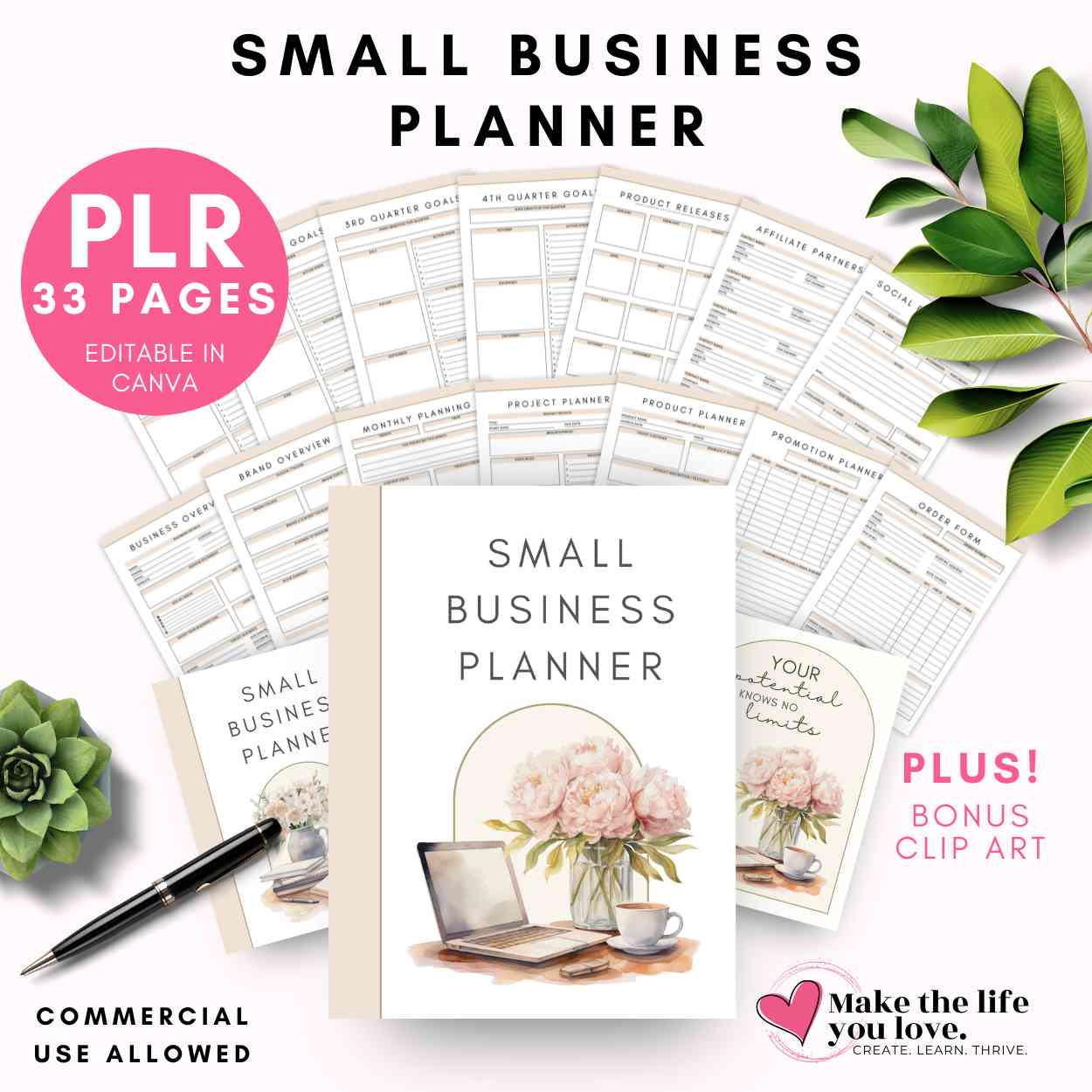 Small Business Planner PLR
From Tina Haack
This 33-page undated planner, with PLR/Commercial Rights, is ideal for entrepreneurs seeking to enhance workflow. It includes goal setting, project management, and planning schedules, plus financial and promotional strategy tools. Bonus custom-designed clipart with commercial rights is included, adding value for business owners aiming for operational efficiency.
PLR Emotion Explorer Activity Pack + BONUS PLR Mermaid Colorable Stickers
From Charlene Manzoni
This 32-page commercial use template pack combines journal prompts that inspire insightful self-reflection, coloring activities that encourage creative expression, and engaging emotional exploration exercises. Ignite your child's emotional intelligence with a collection that nurtures their growth while providing hours of enriching entertainment.
Fashion Kawaii Girls – 40 Coloring Pages and Line Arts
From Virginie Vandeuren
Get ready for some cute and stylish fun with our 'Fashion Kawaii Girls' pack.
We've got 40 coloring pages and 40 line art images in PNG, all filled with adorable fashionistas just waiting for your creative touch.
Let's color the world of fashion kawaii-style and make every page pop with your own unique flair.
Poinsettia Pick a Petal Planner
From Amy Smereck
The table of contents of this digital planner is a poinsettia! Click on a petals to jump to the corresponding page. A small flower on each pages sends you back. Comes in pdf, ODF, and PowerPoint formats. Commercial use.
My Floral Faith Journal with PLR
From Christine Vivero
This Done-for-You Floral Faith Journal includes 23 Christian-themed editable journal and planner pages. You can edit the pages in the PowerPoint template, then mix and match to create a PDF file that you can sell in your shop or give as a lead magnet to your audience.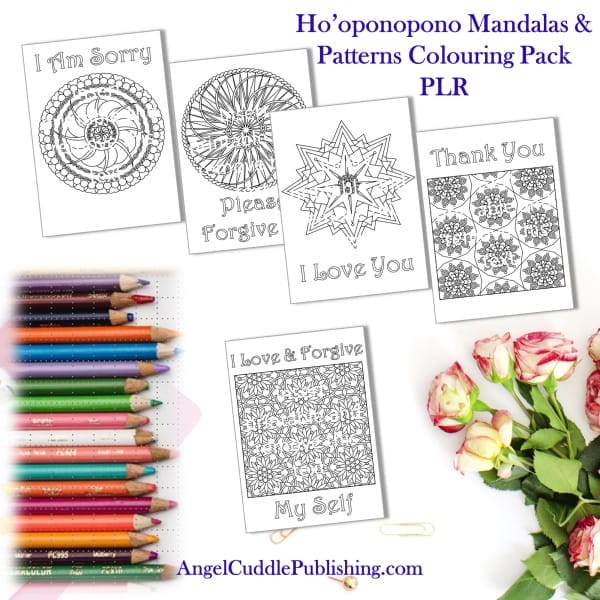 Ho'oponopono Mandalas & Patterns Colouring Pack PLR
From Sarah Pritchard
A fusion of the Ho'oponopono Mantra and Angel Inspired Colouring Therapy. Help your customers raise their frequency by cleansing spiritually, mentally, emotionally and physically with this delightful Colouring Pack…
Christmas Themed Custom Canva Frames
From Kaycee N
The Canva frames are perfect for your creative designs including printables, digital planners, notebooks, print-on-demand products, scrapbooks, cards, journals, tags, papercrafts, and many more design and craft projects. They are custom-made and cannot be found in Canva.
It's Time to Make a Choice
Will you let another Black Friday pass by, leaving you stuck with the same problems and missed opportunities? Or will you seize this opportunity to take your business to new heights?