Weekly Planner Spread Collection
Productivity Doesn't Have To Be Dull
For years, we've been stuck with planners that force us into the same boring planners page after page. Every. Single. Year. Year after year. It's no wonder many people give up on their goals! Yes, action is a big part of achieving goals but seriously! Who gets all pumped opening up their day only to see boxy blocks with unending lines of to-do's daily?
Nobody. And that's why we have designed these printable for your planner.
Introducing The Weekly Planner Spread Collection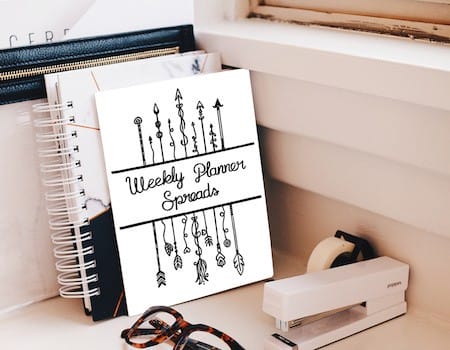 Inject some fun and beauty into your week while creating daily habits. The brain loves fresh, shiny new objects. So swap out your weekly spread every week to get that shiny object feeling and keep your excitement level up as you dig deeper and closer into your projects.
With 6 different designs, you can keep things interesting every 6 weeks! Don't stop there. Because the pages are designed to be color-friendly, no two weeks need to be the same even when you re-use the designs. Color them differently each week. Mix up the designs. On top of that, because you get editable versions of the planner, you can even move things around.
Here Are The Included Designs
THAT'S NOT ALL! ALSO INCLUDED:
Branding Rights
It's true! With this bundle, you get the rights to private label these planner sheets. This means you can sell it on your own site and you get to keep all the money. More important, this can happen as early as tonight. Here's a quick run down of what else you can do:
Give it away as a lead magnet in PDF or JPG format.

Sell as your own product on your own website in PDF or JPG format.

Put your name on the product.
As If That's Not Enough, We're Not Done Yet
To help you sell your brand new planner, we're going to help you. We've re-worked the planner into 4 different sizes most common in the planner world - US Letter, Half size, A4 and A5.
You'll get 3 additional divider pages complete with motivational text to help sweeten the pot for your customer so this will be a no-brainer purchase for them.
You get marketing materials to help you promote your planner. You'll find 3 carefully created mockup images so your planners look and become real in your customer's eyes. On top of that, you'll get 10 social media images. Finally, we also worked up 30 social media posts enough to fill your calendar for weeks.
No spending hours or days writing your own posts, or making graphics. All you need to do is schedule the posts and let them run on auto-pilot.
Here's A Preview...
Re-Cap What You Will Receive
13 Planner Pages

(In Letter, Half size, A4, A5. JPG, PDF and AI)

3 Divider Pages

(In Letter, Half size, A4, A5. JPG, PDF and AI)