Looking for a WordPress SEO Plugin or specifically a RankMath Review? Then you have probably heard of SEO (search engine optimization). Considering Google controls over 90% of global searches, it is no surprise that this topic is something any small business should pay attention to.
Your website's SEO scorecard is a way for search engines to figure out your online positioning. The higher you rank, the more likely you'll get visitors and if you can rank amongst the top three, the traffic can be monumental – depending on what keyword you are ranking for.
According to a study by Sistrix, the average click-through rate (CTR) for a website listed on the first page of search engine results is 28.5%. The average CTR drops significantly after the first position, with the second and third positions registering a 15% and 11% click-through rate, respectively. The tenth position garners only 2.5%. If your website is listed on the second page, it is essentially invisible to users.
Since traffic is the lifeblood of any online business, investing in a powerful WordPress SEO plugin like RankMath can make a significant difference.
Why You Need A WordPress SEO Plugin
To do search engine optimization, you have to add code and keyword information into what's called the "Header" of your web page. This is a part of your page that you don't see, but it "read" by machines, like a search engine bot.
Since WordPress uses a template system, if you add these bits of code in your template, all pages of your site will have the same information. That isn't accurate naturally since each page of your site focuses on different things. To tell a search engine bot what a page is about, each page should have its own header data. WordPress doesn't have this capability built in, and that is why you need a WordPress SEO plugin.
Popular WordPress SEO Plugins
A quick search on Google or the WordPress plugin repository and you'll find tons of plugins to do this. That's why you're reading this review, isn't it? To find out which one is worth your time and your money.
Over my 19 years using WordPress, I've used several WordPress SEO Plugins and admittedly, Yoast SEO was my go-to for a long time. I used it even though I wasn't completely happy with it. For one, the many notices were annoying me.
The other reason was the price. I'm not sure what it costs today, but it was quite pricey when I checked last. It simply wasn't a number I was ready to pay. These reasons pushed me to find an alternative.
A friend recommended RankMath to me and never turned back. Here are some reasons.
Affordable
Since I mentioned cost earlier, it's should be no surprise one reason is price. If you use RankMath for your own sites – most people are – it only costs $59 for the first year and $69/year after. Plus, it packs a lot more features for the price.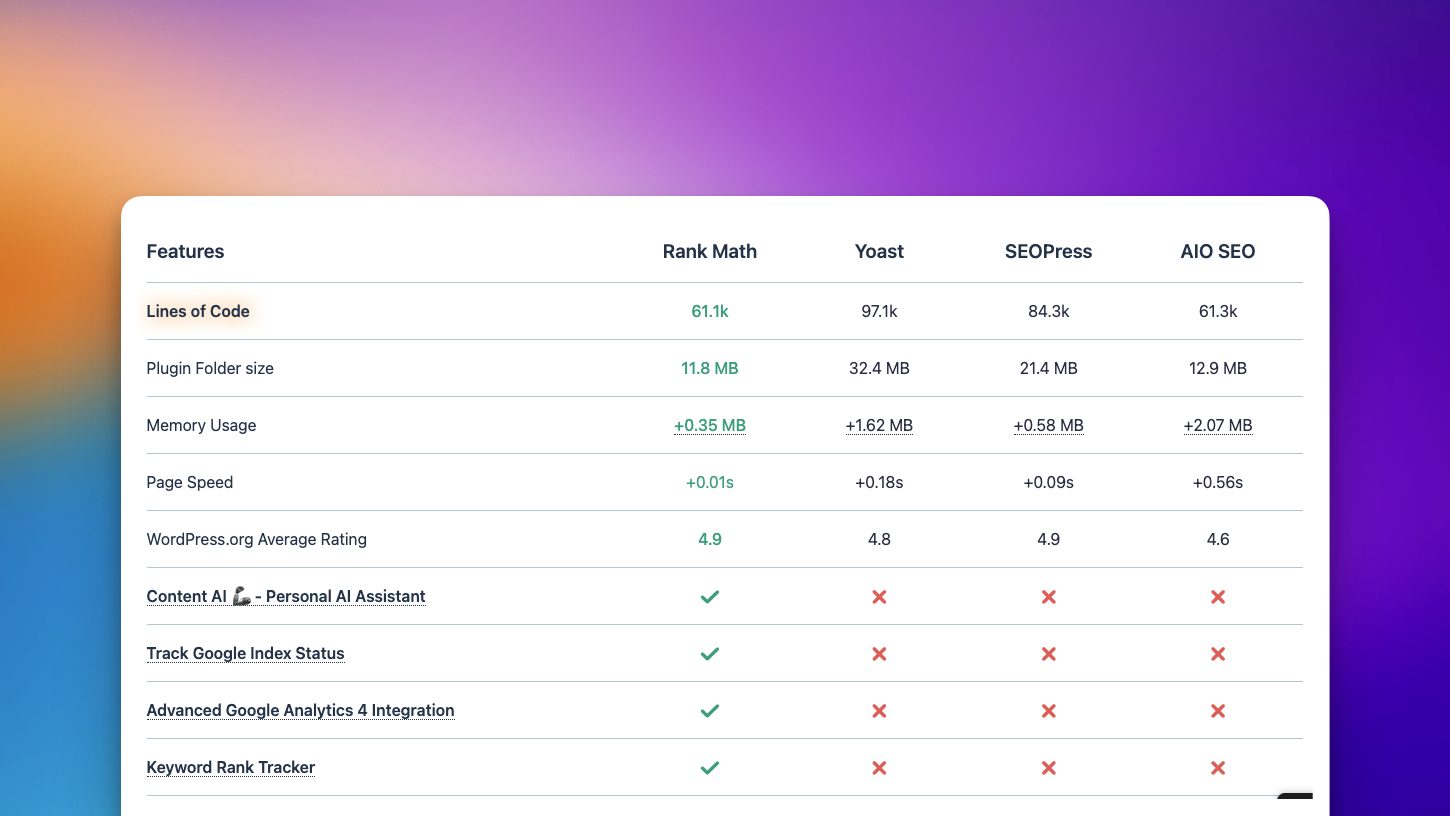 Simplicity
I found RankMath's interface more intuitive and user-friendly. It doesn't constantly nag me to do this or that. However, it gives me all the information I need if I choose to optimize my page. If I don't, I simply close the panel. This could be true for other WordPress SEO plugins too, but RankMath's interface simply clicks with the way I work.
Well Supported
Whether you are buying a WordPress SEO plugin or any other plugin, you want to make sure it is well supported. By that, I mean they have a support team who responds fast to your questions or problems. A well-supported plugin is also one that the developers care to ensure the plugin works with the latest versions of WordPress and all the supporting architecture.
Well supported also includes a healthy, medium to large user base. The bigger and more helpful the user community is, the more likely you can get help from others too.
Free Comparison Chart Template
Stop guessing and eliminate confusion. Chart the plugins you are considering for an easy comparison that can assist you in making the best decision for your website.
Google Trends
When you're looking for a keyword to rank, it's helpful to see how it's doing in Google Trends. Is it a seasonal keyword? One that enjoys consistent traffic? A trending keyword or a one-hit wonder on its way down? Getting this information right inside the WordPress post editor saves me time.
Readability Check
Have you noticed how some keywords are almost impossible to write an article for? An example is "wordpress seo plugins best". It's very difficult to write a sentence with those keywords all together without adding words or re-structuring it, depending on what the keyword is.
Search engine bots don't buy from you. People do. When you're trying to optimize your article, it's easy to forget that you want people to read your content. It can be a tricky balance between the two. RankMath's readability check feature helps me do that.
Schema (Structured Content) Module
Imagine you have a library with lots of books, and each book has a different topic. Now, think about how you find the right book you need in that library. It can be confusing if all the books were just piled up randomly, right?
Well, that's kind of how the internet works too. There are so many websites and web pages with different information. That's where Schema comes in. It's like a special language or code that helps search engines understand what a webpage is all about.
For example, if you're writing a blog post about different animals, Schema can help you let search engines know your page is about animals, and even specifically about different animals.
By using Schema, search engines can better understand and categorize the information on a webpage. This makes it easier for them to show the right information to people who are searching for it.
Schema can also help you rank in Google Shopping when you have an ecommerce store or recipes when you have a food blog. You can get a plugin just to do schema. But why add another plugin when you can have it in your WordPress SEO plugin?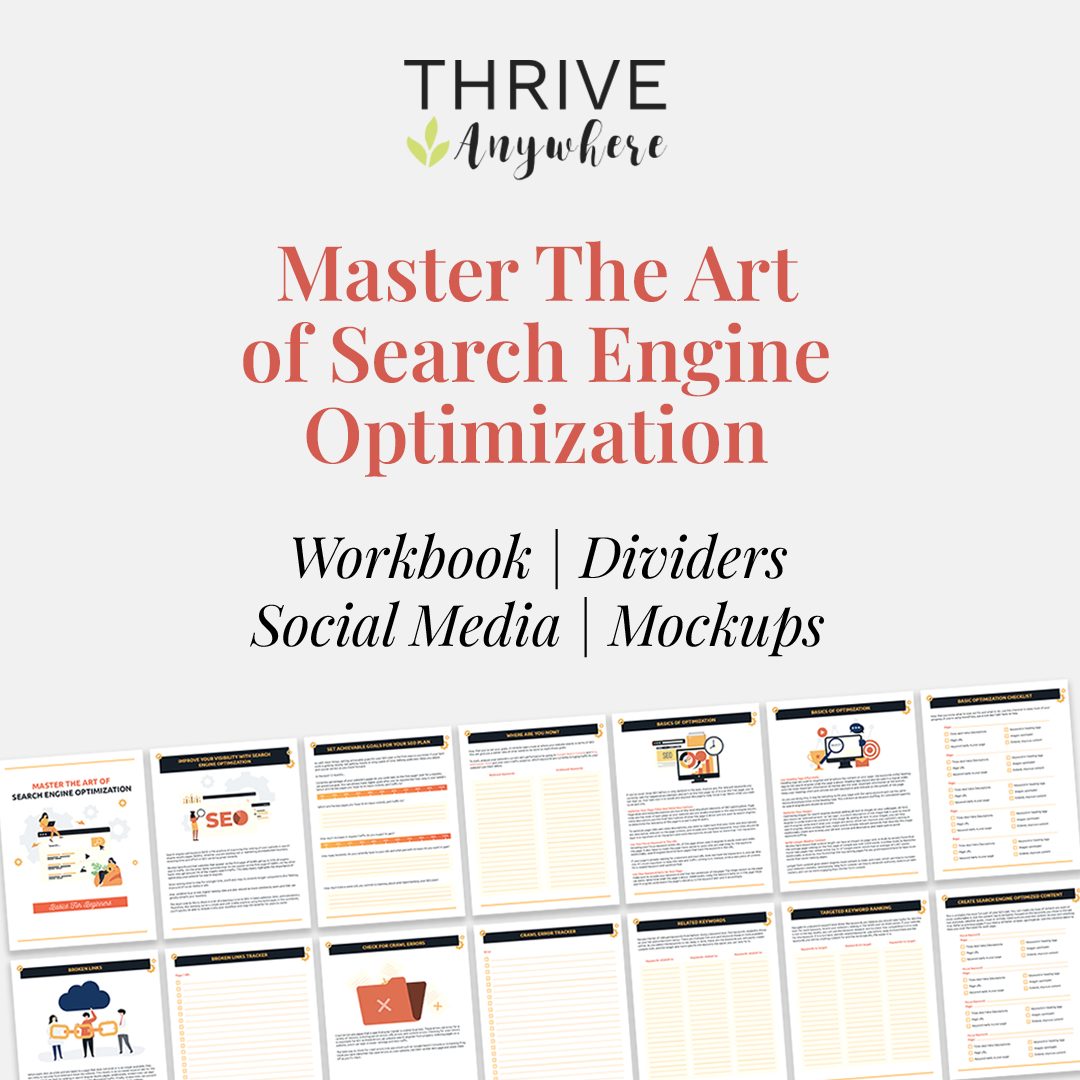 Redirection
The same is true for redirection plugins. You can also find that feature in RankMath. That's yet another plugin I don't have to install. I also love how the plugin will automatically add a redirect if the URL of my post or page changes.
Internal Linking Suggestions
Linking to your own content is yet another thing you want to do when optimizing a page. Internal linking helps search engines understand the structure and hierarchy of your website. Consistent linking to important pages within your site signals to the search engines that those pages contain important information and a small thumbs up on the authority of your website. Put together, they all add up and that's only one benefit of internal linking.
So how does RankMath help with that? It suggests what pages you should link to. When you have a site with hundreds of pages written over years, it's difficult to find what pages are relevant to the one you're writing now. Getting suggestions is a huge timesaver.
Rank Tracking
RankMath offers a built-in rank tracking feature that allows you to monitor the performance of your pages without having to leave your WordPress site. This feature provides valuable insights into which keywords are driving traffic to your website and how your rankings change over time.
Free Comparison Chart Template
Stop guessing and eliminate confusion. Chart the plugins you are considering for an easy comparison that can assist you in making the best decision for your website.
Index Status
Even though much of SEO is done page by page, it's also a good idea to see how your site overall is performing. Index Status will show you the overall presence of your site on Google. How many pages have been indexed, crawled and not indexed, indexing issues and so on.
Is There A Free Version?
Absolutely. You can find a free copy here. Or, you can look for RankMath in the plugin area of your WordPress powered site.
Conclusion
These are just a few reasons I use the RankMath WordPress SEO plugin only right now. There are more, and some features may be more important to you than they are to me. So I encourage you to check it out on their site to learn about the plugin. Download the free copy or try the demo, then decide for yourself if it's a good match for you.