Ready-To-Publish With Re-Brandable Rights
Digital Course Creation Workbook
There is no doubt the global eLearning market is flourishing. According to a study by Research and Markets, the industry is expected to balloon into a $238 billion industry by 2024. Another research firm - Global Market Insights expect it to become a $300 billion industry by 2025.
This is a fantastic opportunity for all of us who have knowledge and skill to share. However, creating your own digital course can be a huge undertaking and you can easily get lost in the details.
Introducing The Digital Course Creation Workbook
Whether you are tackling digital course creation for yourself or you are teaching your own students on digital course creation, this workbook can walk you through each step of the process and keep you or your students on track.
Watch This Flip-Through For A Closer Look
This Would Cost You Valuable Hours To Create Yourself
But today, you get it for...
Only $39
FOR A LIMITED TIME
THAT'S NOT ALL! ALSO INCLUDED
Re-Brandable Rights
It's true! You get rights to private label this book. This means you can sell it on your own site and you get to keep all the money. More important, this can happen as early as tonight. Here's a quick run down of what else you can do.
Give it away as a lead magnet in PDF or JPG format.

Sell as your own product on your own website in PDF or JPG format.

Put your name on the product.
You Don't Have To Waste Countless Hours
or the frustrations that come along with outsourcing. Download it today.
Only $39
FOR A LIMITED TIME
As If That's Not Enough, We're Not Done Yet
To help you sell your brand new tracker, we're going to help you. We've re-worked the tracker into 4 different sizes most common in the planner world - US Letter, 6X9, A4 and A5.
You'll get 5 additional divider pages complete with motivational text to help sweeten the pot for your customer so this will be a no-brainer purchase for them.
You get marketing materials to help you promote your tracker. You'll find 3 professionally created mockup images so your tracker look and become real in your customer's eyes. On top of that, you'll get 10 social media images. Finally, we also worked up 30 social media posts enough to fill your calendar for weeks.
No spending hours or days writing your own posts, or making graphics. All you need to do is schedule the posts and let them run on auto-pilot.
Here's A Preview...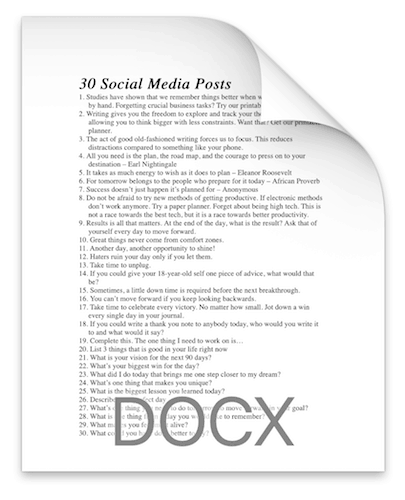 Take Advantage of This Offer Now
You cannot hire anyone to do designs like this for this price.
Only $39
FOR A LIMITED TIME
Re-Cap What You Will Receive
Professionally Designed Journal Pages

(In Letter, 6X9, A4, A5. JPG, PDF, PPTX and INDD)
5 Divider Pages

(In Letter, Half size, A4, A5. JPG, PDF, PPTX and INDD)
Best Price In Effect
Place your order now while everything is in front of you.
Only $39
FOR A LIMITED TIME